Janet's rather long bio and btw... ♢◊✵ You Look Good Naked✵◊♢
Janet Panic is a Bohemian-Métis pop artist born to two academics but went her own way — into a life of music.                                       What could possibly go wrong?
Something about the stack of her mom's 45's whose grooves held stories and emotions, told her she could do it too. Based in Sechelt, BC, she is now an award-winning singer-songwriter with three solo albums under her belt, several new songs and TV appearances on major Canadian networks.  Janet's new single, "What A Day Can Change" — produced by Jeff Dawson (Daniel Powter) — is about still feeling like a teenager, but alas the bathroom mirror tells a different story... Where the @#$! does time go? It's a down-tempo contemplative pretty song not at all like the pop fun of  "Lousy Wife" from  The Girl Who Passed for Normal or "After The Boy" from her last full-length, 2013's Most of What Follows Is True...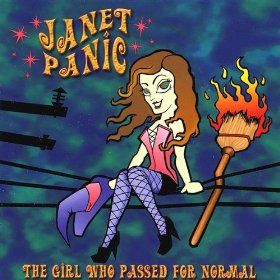 Dawson produced that too, in addition to Janet's new ballad "God Open Your Arms" about how humankind makes the same mistakes over and over again, and the up-tempo country-tinged plea "Not Over Yet" about trying to break away from an ex.  The two have been working together since 2001's The Girl Who Passed For Normal.
"He's got a strong sense of melody and lots of little sneaky tricks for getting a great vocal performance," Janet says. "He listens really well and helps you get what you're looking for.  Jeff pops it up. Most of my songs are performed live just me and my guitar but once they get produced I prefer that they sound pop, with loopy drums and clever bass."
Janet has gone through a few distinct musical phases in her career. Born in Brockville, Ontario ..she likes to says the "B" is silent, her parents moved all over Canada every two or three years  — her father works in the oil industry — and music became her trusted friend.  "One of my earliest memories is writing a song on piano and thinking, 'Hey this isn't so hard,'". Panic says "I listened to music 24/7. I'd fall asleep listening to my snoopy radio."
She picked up guitar at age 13 and four years later moved to Montreal to be closer to her best friend.
Drawn to musicians — and wanting to be one herself — she started practicing hard and writing songs. She did her first live performance at age 18 at Les Bobards.  "I've always liked Johnny Cash and Leonard Cohen and the ironic songwriter types and so I have not really changed my style much from back then," Janet says. "I'm the girl with a guitar telling tongue and cheek stories about life."
That may be true, but how her songs were couched has changed. For a long time, she was in No Doubt-style punk bands with her now ex husband Dragan Panic — which birthed her stage sounding name — releasing three albums with the Phew and two with 10 Ft. Henry.
When she moved back to British Columbia, she ran into Jeff Dawson at a 7-Eleven and they talked about working together. That became her first solo album, The Girl Who Passed For Normal, which had five producers.She scored a few song placements in TV shows and received a videoFACT grant for "I Miss My Sweet Embrace," directed by District 9 screenwriter Neill Blomkamp.
Janet then took time off to raise her daughter, recording and performing sporadically and working in Aboriginal television and now radio. In 2011, she did a compilation record of sorts called Samples, featuring her singles and other tracks so she'd have something to sell on a folk festival tour. She didn't intend for it to be an official release, but it won a 2012 Aboriginal People's Choice awards for Best Folk/Acoustic CD and nomination at the 2013 Juno Awards for Aboriginal Album of the Year.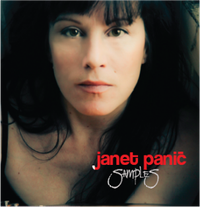 Her latest full-length, Most of What Follows Is True, is doing well, yielding placements on TV shows such as Arctic Air and leading to performances on the National Aboriginal Achievement Foundation awards, the Aboriginal People Choice Awards and various APTN programs. The song "Sweet Music", and "What A Day Can Change" also received a fair bit of radio play. 
Janet — who has finally planted roots in Sechelt with her daughter — is proud of establishing a career when she had no role models in music in her family and few in the industry itself when she was young."I was the only girl walking around with a guitar case. I'm so happy to see lots of girls now with guitars, but at the time I was thinking, 'Why don't women play guitar more?' I wanted to be a guitar hero. For me personally I found the 6 string really hard to play. I haven't yet achieved guitar hero status but it makes me happy that I've been successful thus far as a musician."

-Karen Bliss
 
For interviews, bookings or more information, contact: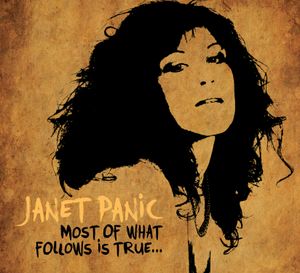 janetpanic@gmail.com